In this post we will go through the steps of how to create a bootable hard drive and install 3 Operating Systems.
For this process we are going to install 10.10 Yosemite, 10.11 El Capitan, 10.12 macOS Sierra on an external Hard drive.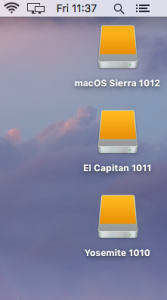 The first process it to plug in the external hard drive you will use as the bootable OS into the Mac you are going to run the installer. Split the drive into the amount of OS you need to create. For this example we are going to use 3 partitions. Each one labeled the OS you want on that partition.
e.g: 10.10 Yosemite, 10.11 El Capitan, 10.12 macOS Sierra
The next step you must create a bootable USB of each of the Operating system before you reboot the machine to run the installer. Here is a link to the website to help you do this.
Click here for website details
Click here for the video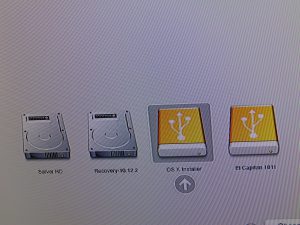 Once you have created your USB Bootable OSX drive, reboot the machine you will use to install the OS to the external drive. YOU MUST PRESS AND KEEP DOWN THE ALT KEY ON THE REBOOT.
This will open up the bootable options for the machine. Select the USB bootable installer you created and run through the installer selecting the external hard drive partition for that OSX.
i.e:
10.10 Yosemite = USB Stick for 10.10 Yosemite installer
10.11 El Capitan = USB Stick for 10.11 El Capitan installer
10.12 macOS Sierra = USB Stick for 10.12 macOS Sierra installer
Once the Operating system is installed boot to that system and create a new user on that system and run all the updates and apps you require on that system.  You can add to that system at a later date.  In short put in the basics of a system and add to it over time as your require. Repeat the process for all other Operating Systems you want to install.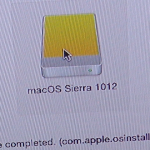 Remember only certain machines will boot certain OSX systems. In short anything under 2010 will not install macOS Sierra (there are a few exceptions)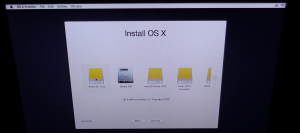 You can now select which Operating System you want to run from an external hard drive by rebooting to booting the Mac and pressing and keep pressing down the alt key while it boots.  The boot menu will allow you to select which drive or partition you want to select.
Click Here is the video on how to create a USB installer: